When organizations want to increase efficiency and run a lean company, many turn to value stream mapping.

Value stream mapping is a proven Lean Six Sigma technique that provides high-value information and a bird's eye view of different factors within an operation. It optimizes processes by focusing on the actions, timeframe and people involved.

You might be familiar with a process map, but a value stream map can provide a much broader view of your processes. It is especially useful during an ERP implementation or digital transformation. In our experience, a major cause of scope expansion is a failure to define business processes before ERP selection.

Overview
Value stream mapping is a tool that helps organizations understand the flow of information or materials. Value stream mapping should:

Provide a broad range of information.


Cover the value stream from end-to-end.


Include a high-level view of a business process.


Account for management and information systems support.


Identify decision making flow.

While this may seem like a lot to expect from a simple pen-and-paper tool, the idea is to take a process that might seem complex and simplify it as much as possible.

Value stream mapping plays a significant role in reducing cycle times, eliminating decision-making blocks and reducing unnecessary information transfer or approvals. It's a tool meant to remove steps that waste time and resources.

Ultimately, value stream mapping should align business process with the organizations' overall goals or their goals for a specific product or service.

Value Stream Mapping vs. Value Chain Mapping
While companies may use the terms value stream mapping and value chain mapping interchangeably, these two tools provide very different functions.
Example of a Value Steam Map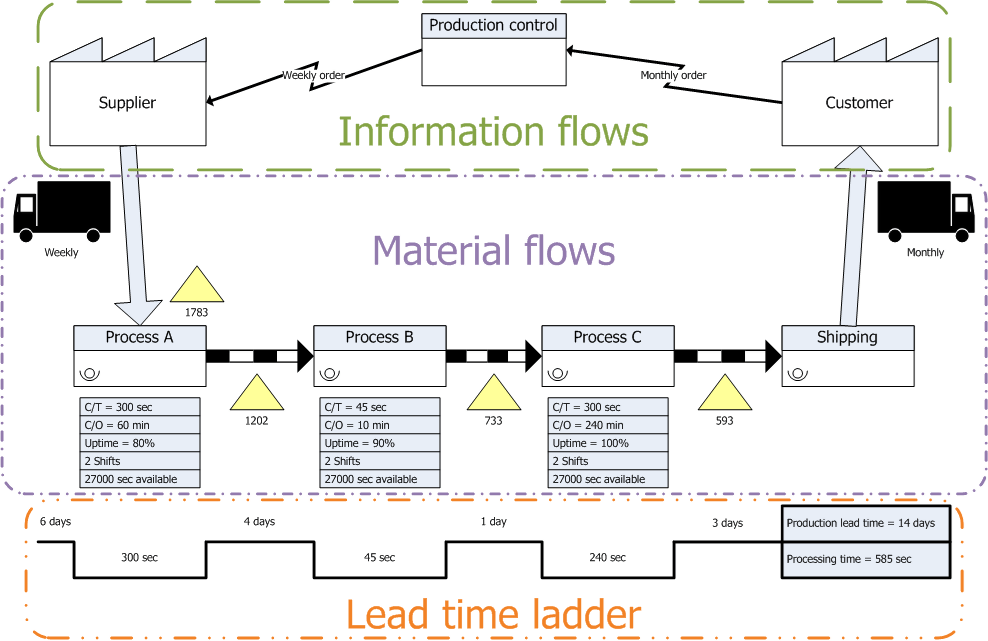 Value Stream Map Parts" by Daniel Penfield is licensed under CC BY-SA 3.0
A value stream map is a high-level view, documenting a business process – usually, the manufacturing of a product, service or task. The map serves to reduce waste and help management choose the paths that provide the highest value to customers and other stakeholders. The map outlines processes, key people and the business architecture involved in delivering a product or service.

Example of a Value Chain Map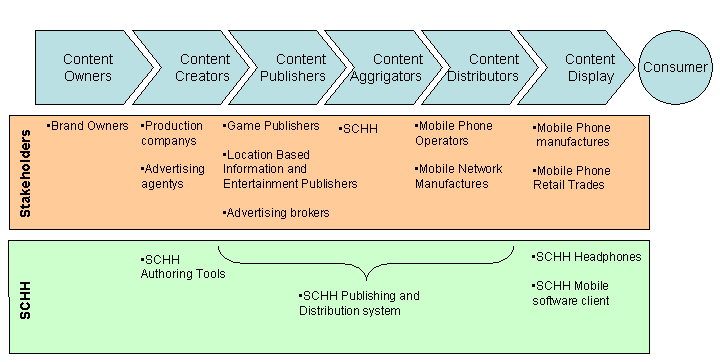 "SCHH Value Chain" by Pan491 is licensed under CC BY-SA 3.0

A value chain map shows a business function with its performance metrics. The map shows the current process and the aspects of each step that contribute to success. The map is very direct and focuses on the smaller, but still important, aspects of a process.

How Does Value Stream Mapping Add Value?
A value stream map adds value in the same way that many other Lean or Six Sigma tools do – it eliminates waste. Saving company resources, not just money, can have a positive impact on the culture, processes and eventually the bottom line. A value stream map provides:

Easy assessment of bottlenecks.


A useful resource for management and executives.


A way to initiate countermeasures in a visual manner.

Unlike other tools that aim to increase efficiency, a value stream map illuminates immediate options for process improvement. On top of everything else, a value steam map is simple to understand and easy to modify.

While obtaining buy-in for process improvement isn't always easy, many organizations hire ERP consultants to help align stakeholders around common goals. For example, many of our clients' project teams know that the project budget allotted by leadership isn't enough, so we take the time to educate executives about the importance of success factors like business process reengineering and organizational change management.

Practical Uses
How can you put a value stream map to use in your organization? Historically, the value stream map has thrived in manufacturing settings since Toyota began to implement this type of system in the early 1950s. Today, value stream mapping is proving useful across a variety of industries.

When it comes to manufacturing the practical uses are clear. Each product that has a value stream map can increase the efficiency of manufacturing and eliminate the risk of overproduction.

In healthcare organizations, a value stream map can show doctors where a patient is in their recovery plan. These maps also can eliminate unnecessary testing, reduce wait times and lead to more cost-effective treatment without compromising the quality of care.

Administrative staff are learning to love value stream mapping as it eliminates duties that overlap or are blatantly unnecessary. A value system map can reduce quality control to one step rather than multiple quality checks that often bottleneck administrative work.

Value Steam Mapping During an ERP Implementation
If your ERP implementation isn't resulting in as many business benefits as you expected, you should consider value stream mapping.

Maybe you have yet to select an ERP system. In this case, a value stream map is especially useful during the early stages of selection when you're conducting business process management activities.

During this time, a value stream map can show employees how and when they become vital to a process. You can also use it to identify when performance metrics become available and use the ERP system to leverage this data.

One of our recent clients, a large supply company undergoing an ERP implementation, found process mapping helpful in identifying aspects of their company culture that could impede change. Documenting pain points and sharing their findings with executives allowed them to establish project buy-in.

Challenges
Every good thing comes at a price, right? Don't worry – the challenges of value stream mapping lie in the initial time investment.

Creating a value stream map usually takes several weeks. It depends on how stasis your current processes are and the scope of the map. While the time investment may be intimidating, recruiting the right people for your project team can make the effort less taxing.

When creating maps, you of course want people who are intimately familiar with the processes being mapped. However, you also want to include people who have no day-to-day familiarity with the processes. You need people who will question small steps and why certain restrictions are in place. A third-party, like an ERP consultant, can be helpful since they will look at your processes with a fresh eye.

Best Practices
There are a few key components that play directly into the success of value stream mapping. First of all, you should ensure the map is realistic. The map of the current value stream cannot be optimistic when it comes to time aspects, such as how long it takes to receive goods from a vendor. Additionally, your future state map must strive to both restrict the ability of overproduction, while also removing constraints.

Does Your Organization Need a Value Steam Map?

Enabling organizational change and improving efficiency, this tool is well worth the time and effort spent creating it. Whether you're having problems with a supplier, struggling to meet customer demand or trying to make the most of your ERP software, a value stream map can provide actionable insights.

Routeget Technologies' ERP consultants can help you create a value stream map that provides the insight necessary to make smart decisions during ERP selection and throughout your ERP project.